Bone Broth Recipe- Bone Broth Soup!
This healthier version isn't 10 for $1 but it is still an inexpensive soup & noodle dish that will certainly help you feel better on days that you need an little comfort and TLC. Lotus Foods offers a Gluten, Free and Vegan Noodle that is hearty. I found a 12 pack bag at Costco. Using clean water and a heaping scoop of Bone Broth Powder it instantly becomes a immune supporting cup of comfort. Dr. Axe has a great product line that is available on his website or via Amazon. I prefer his brand because it is clean and unflavored- but he does carry Vanilla, Chocolate and Turmeric Flavors too! This Ramen Noodle Comfort Dish is a Healthier Bone Broth Soup that will fill up tummies and support it too!
There are many benefits of Bone Broth!
Dr. Axe's go to staple is Bone Broth Soup for:
Treat leaky gut syndrome

Overcome food intolerances and allergies

Improve joint health

Reduce cellulite

Boost immune system
Ramen Noodles Made Healthy with Bone Broth
Ingredients for Bone Broth Soup:
2 Cups Clean Water

2 Heaping Scoops Bone Broth Powder

2 Packs of Lotus Brand Ramen Noodles (Available at Costco or via

Amazon

)
Supportive Herbs & Spices or Essential Oils: Select herbs and spices depending on your symptoms. Some that I use when I need an immunity boost are

Lemongrass, Rosemary and

Ginger

.

(Essential Oil Safety Tip: Only use Therapeutic and Culinary Grade Essential Oils. I use the Vitality Line of Essential Oils from Young Living because they are 100% and the oils that are safe for supplementation or culinary use are labeled for the safety of consumers.

Diced or Shredded Chicken if tolerated

Scallions for garnish

Instructions:
Pour 2 Cups of Clean Water into a medium sized sauce pan and add 2 heaping scoops of Bone Broth Powder. Whisk to break up and incorporate.

When it comes to a boil reduce heat and add the Ramen Noodles.

After 1 minute, you should be able to break up the noodles gently with a fork.

Remove from heat and drop in Spices, Herbs or Essential Oils (1 drop at a time- remember they are concentrated).

Pour in a large soup-bowl and top with Diced Chicken and garnish with Scallions.

Bring face down over bowl as it steams and you can smell the essential oils- it is a great aromatherapy sessions just before you eat.
For more ways to use Culinary Grade Essential Oils in the Kitchen see this post: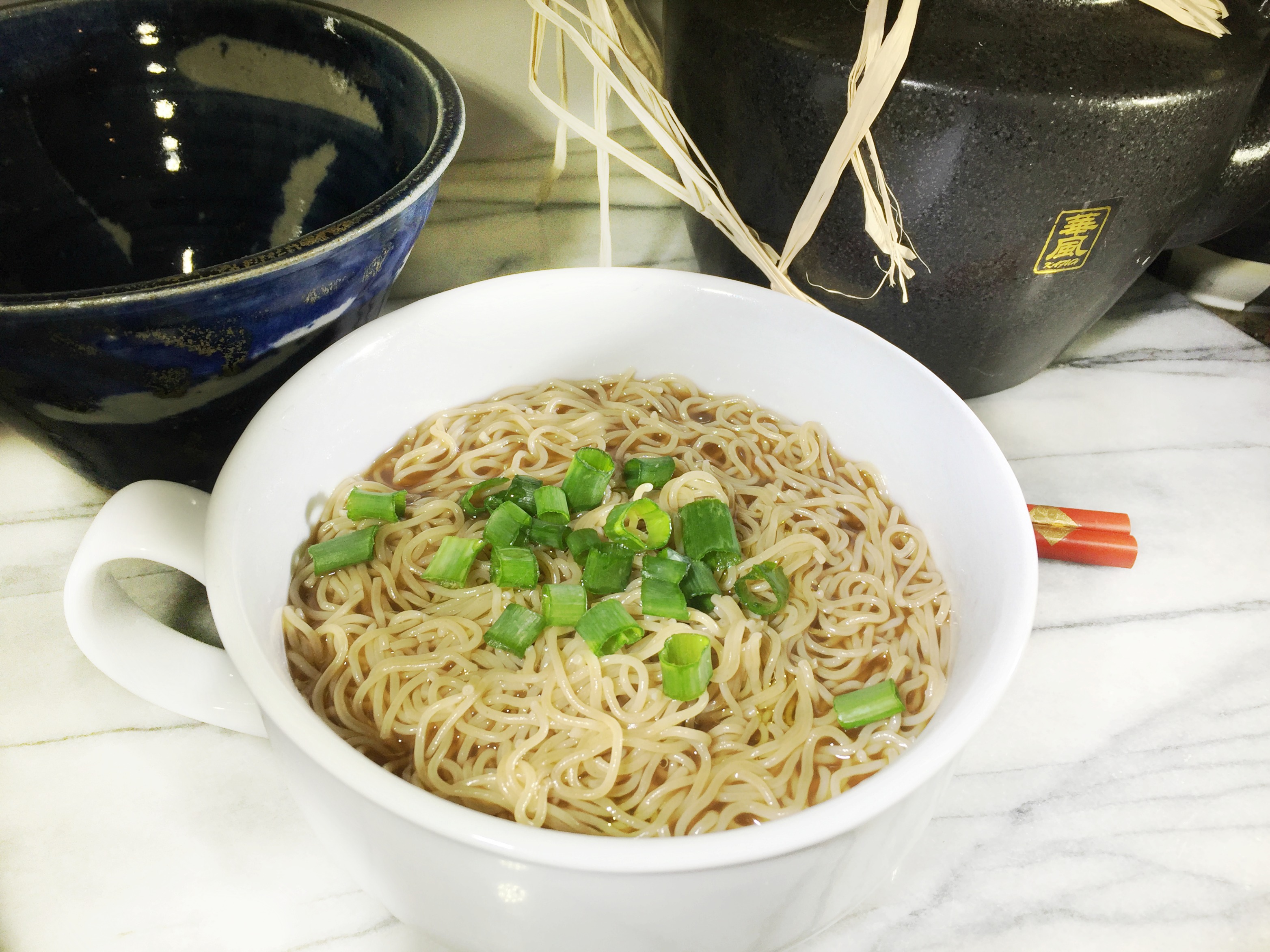 Enjoy!
*Cleanly Consumed is a participant in the Amazon Services LLC Associates Program, an affiliate advertising program designed to provide a means for sites to earn advertising fees and linking to www.cleanlyconsumed.com


Join the Journey!
Let's get started! Be supported in your Clean Living Journey, step by step with resources, guides and a TON of encouragement along the way. You can do this- because step by step we did too!