Looking for a Better Built Smoothie?
They say it is what is inside that counts… and that is for smoothies too! You want to start your day out right- but if you are like me you hit the ground running and NEVER stop until everyone else is tucked in!!!
There are a few key things you need to consider when building a better smoothie.
I have a few key ingredients that help nourish, support and heal!
BASE:
Dairy, Nut Milk, Yogurt, Water, Juice
Coconut Milk- If you like the creaminess of milk with the added fat- Coconut Milk is a good option.
Juice- Try to keep the sugar load low- but for taste or sweetening it is okay in moderation.
Milk- Be sure to look for Organic Grass-Fed Milk.
Nut Milk- There are several nut milks available in the stores- look for one in the refrigerated section. But if you need one that is shelf stable look for one that has the shortest list of ingredients.
Yogurt- There is a wide variety out there. Kefir, Lactose Free, Greek. Look for Grass-Fed without any added sugar.
FRUITS:
There are a lot of options when it comes to fruits and smoothies:
*Apples, Bananas (buy fresh, ripen and freeze in advance), Cantaloupe, Blackberries, Blueberries, *Cherries, Dates, *Grapefruit, Grapes, *Honeydew Melon, Kiwifruit, *Lemon Juice,* Lime Juice, Mangoes, Nectarines, Oranges, Papaya, Peaches, *Pears, Pineapple, *Plums, Raisins, Raspberries, *Strawberries & Watermelon. *There are considered low glycemic choices.
VEGETABLES:
Yes- vegetables! It is a good and quick way of getting some key nutrients at the start of the day!
Avocados, Beets, Carrots, Celery, Cucumbers, Red Bell Peppers, Spinach & Kale
NUTS & SEEDS:
Almonds, Flax Seed, Hazelnuts, Macadamia, Peanut Butter, Pecans, Pumpkin Seeds, Tahini and Walnuts.
ADD-INS:
Bone Broth Powder, Chia Seeds, Cocoa Powder, Collagen Powder, Extracts, Essential Oils (Culinary & Therapeutic Grade), Ginseng, Licorice Root, Milk Thistle, Ginger, Mint, Protein Powder, Vanilla & Supplements
Sweeteners:
Honey, Stevia, Coconut Sugar, Date Sugar, Apple Sweetener (low glycemic), Juice
Here are a few quick recipes:
Blushing Peach:
3/4 Cup Frozen Sliced Peaches
1/2 Cup Grass-Fed Yogurt
1/2 Cup Milk of Choice
Pinch of Cinnamon
2-3 Drops of Sweetener of Choice
*Optional Add-Ins- 1 Teaspoon Chia Seeds and 1/2 Scoop Collagen Powder
PB&J:
1 Frozen Banana
1/2 Cup Milk of Choice
1/4 Cup Grass-Fed Yogurt
2 Tablespoons Nut Butter (Peanut, Almond or Sunflower)
1 Tablespoon Blackberry Chia Jam or Jelly of Choice
*Optional Add in 1 Scoop of Protein Powder




Classic Breakfast:
1 Frozen Banana
3/4 Cup Milk of Choice
1/2 Cup Frozen Strawberries
1/4 Cup Grass-Fed Yogurt
2 Tablespoons Protein Powder (Tera's Whey Grass-Fed or an Organic Pea Protein Powder)
1 Teaspoon Ground Flaxseed
*Optional Add-Ins- Protein Powder & Collagen Poweder
Mocha Morning:
3/4 Cup Cold Brewed Coffee
1 Cup Milk of Choice
Handful of Ice
Top with Coconut Chocolate Whip
*Optional Add 1 Drop of Peppermint Essential Oil
Goodbye PMS:
1 Cup Milk of Choice
2 Tablespoons of Coconut Chocolate Whip
3/4 Cup Frozen Pitted Cherries
1/4 Teaspoon Vanilla Extract
1 Drop Peppermint Essential Oil
*Optional Add Ins- Chia Seeds, Protein Powder and Collagen Powder
*Cleanly Consumed is a participant in the Amazon Services LLC Associates Program, an affiliate advertising program designed to provide a means for sites to earn advertising fees and linking to www.cleanlyconsumed.com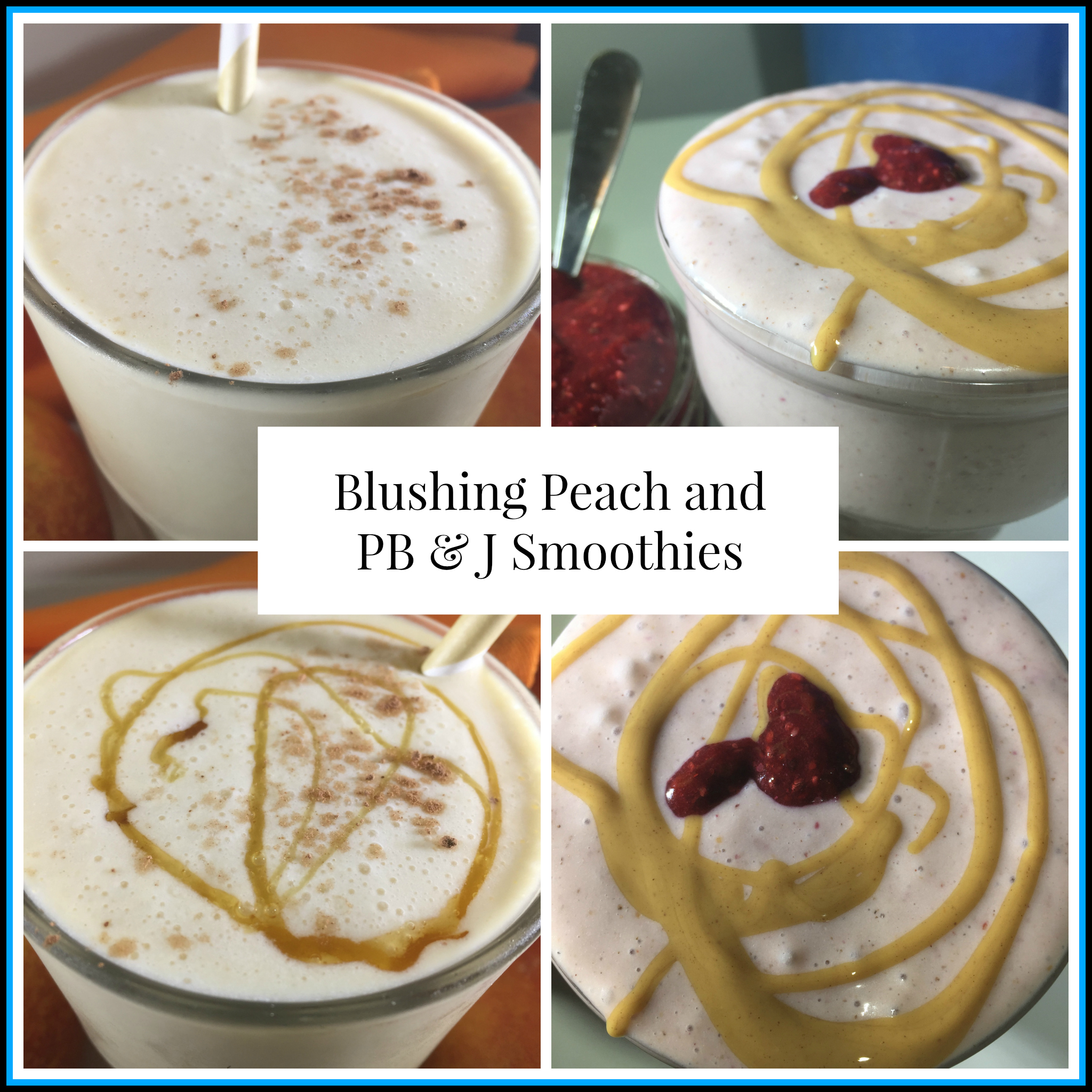 Here are a few more of my favorite tasting smoothies… with a little bit of support built right in!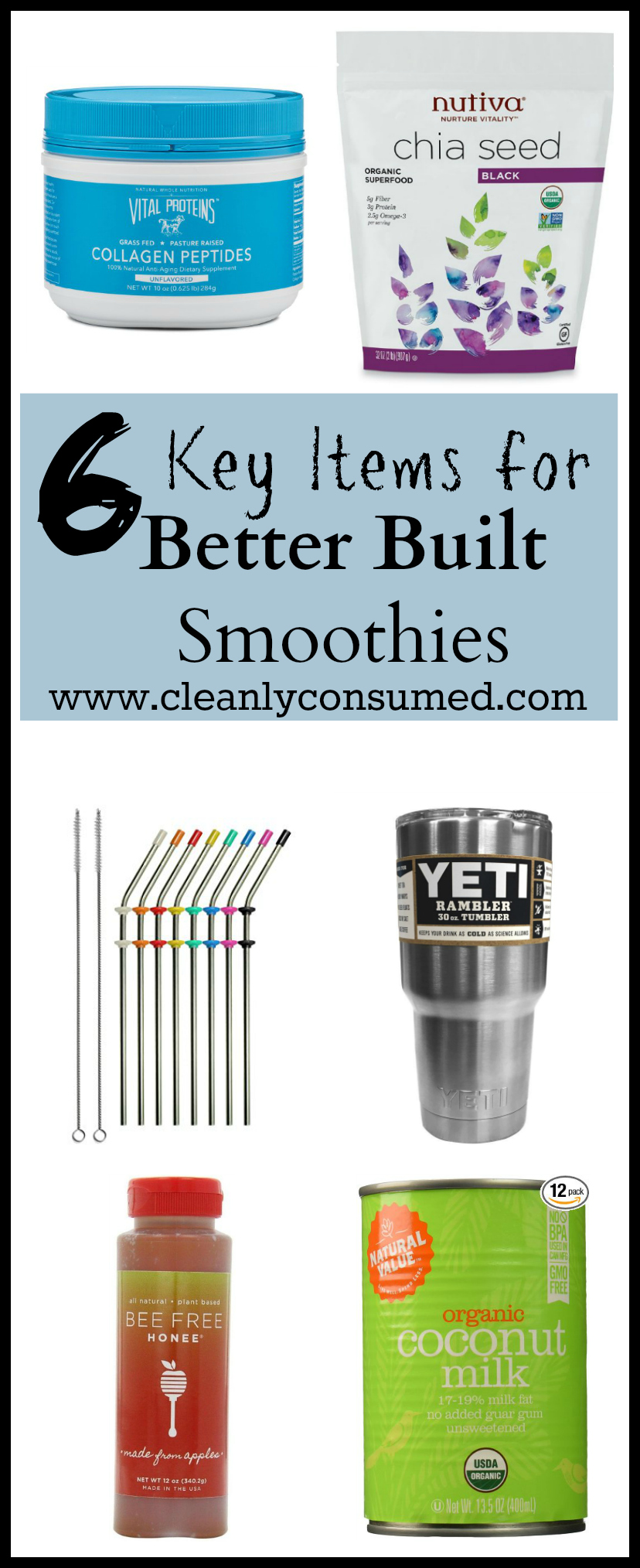 Join the Journey!
Let's get started! Be supported in your Clean Living Journey, step by step with resources, guides and a TON of encouragement along the way. You can do this- because step by step we did too!