Clean Eating Dog Biscuits, Easy & Quick
We love our dog and Scout is part of our Clean Eating Family, so naturally, we wanted to make some Clean Eating Dog Biscuits! 4 Ingredients that you likely already have in your kitchen: Flour, Peanut Butter, Eggs, and Water! We use un-enriched organic flour in our house when we bake, and it is usually easy to find. Long ago I bought a bag of plastic cookie cutters for crafts that had a dog, crown, bone, and other shapes that reminded us of our furry family member. This is also a great kid-friendly recipe to make with your kids to teach them measuring, patience and keep them occupied during a pandemic 🙂
Ingredients:
2 Cups Organic Flour (We used the Organics from HEB)

1/2 Cup Organic & Clean Peanut Butter

2 Eggs (We used Organic, Soy Free and Humanely Raised from HEB)

1/4 Cup Water

Instructions:
Preheat oven to 350 F

Mix together first three ingredients: Flour, Peanut Butter & Eggs until combined

Add in water a little at a time until the mixture is pliable enough to roll out as dough

Roll out and use cookie cutters. We used normal-sized cutters!

Bake in the oven for 10-15 minutes depending on your oven.
*Makes 30-35 treats depending on the size of the cutter you use!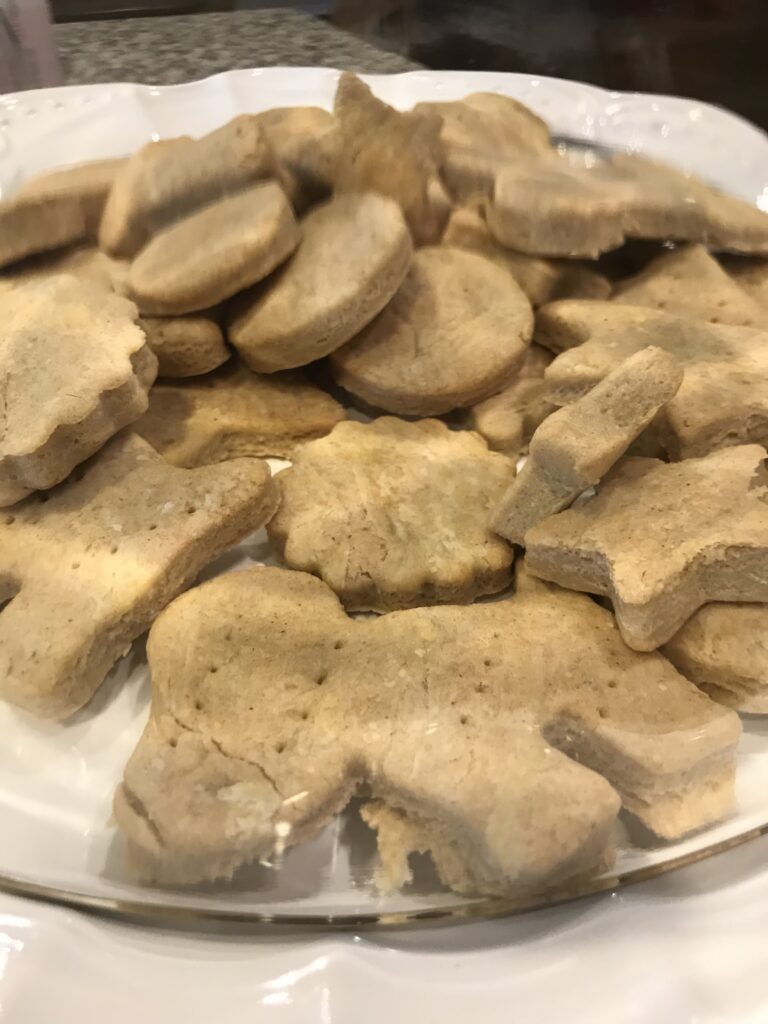 Store covered and enjoy the wagging tail of happiness 🙂
NOTE: Did you know that Dogs can help your immune system?! If you have ever seen our wellness coaching site, then you know we focus a lot on supporting the gut.
"Pets, and dogs especially, add a lot to the diversity of the indoor microbiome. Research has shown that dog ownership raised the levels of 56 different classes of bacterial species in the indoor environment, while naturally more fastidious cats boosted only 24 categories." See article: Are Pets the New Proboitic? in the New York Times 2017 post!

Stay Connected!
Get a Jump Start Now.
Clean Eating Shopping Guide for Free!