It is not just for Thanksgiving…..Cranberry Chutney Stuffed Turkey
I'm experimenting and getting ready for our Thanksgiving Feast. Part of the challenge is making healthier versions that kids will eat. My boys have said "why is everything so brown!" I loved that- it's true I thought the same thing when I was growing up. BUT that brown food is sooooooo good! I'm not missing out though because the clean way is just as tasty.
Today I made a cranberry chutney. I have a great recipe- that doesn't need to be followed exactly to turn out great. So…if you are missing an ingredient don't worry skip it…as long as it's not the cranberry!! I also made Brussel Sprouts with a easy Balsamic Syrup using Monkfruit Sweetner….so that takes the guilt away. I also played around with Pumpkin Butter so I could add it to my roasted spaghetti squash. It was fabulous- it reminded me of sweet potato casserole but in "noodle form". It all worked so well together. All possibilities for that special day approaching soon!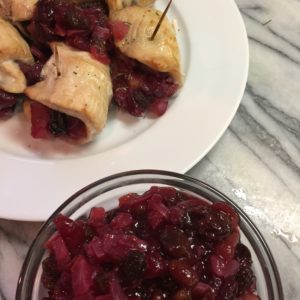 Cranberry Chutney Stuffed Turkey Rolls
2016-11-15 23:34:40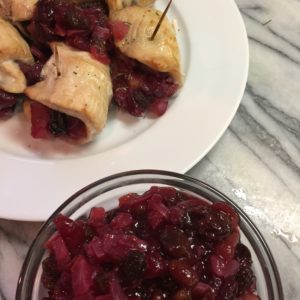 Cranberry Chutney
1 10 ounce bag of Organic Frozen Cranberries
1 Small Red Apple Diced
1 Small Red Onion Diced
3/4 Cup Organic Dried Fruit (Raisins, Cherries, Dates or other)
1 Cup Apple Cider Vinegar (Bragg's)
1 Tsp of Freshly Chopped Ginger or 2 drops of Culinary Grade Ginger Essential Oil
1 Cinnamon Stick or 1 drop of Culinary Grade Cinnamon Essential Oil
1 Tsp of crushed Cloves or 2 drops of Culinary Grade Clove Essential Oil
1Turkey Cutlet Per Person
Instructions
Add Cranberries and Apple Cider Vinegar in a medium saucepan and bring to a boil.
Add in other ingredients and turn down heat to a simmer.
Stir occasionally and then remove from burner to completely cool.
*Preheat oven to 350 degrees
Turkey Cutlets
Use a knife to cut turkey thinner to roll easier.
Place 2 Tablespoons in each cutlet and secure with a toothpick.
Place Turkey Rolls into a olive oil greased baking dish.
Bake 30 minutes concerned and then remove and finish cooking for 15 minutes.
*Spray with olive oil and broil on high if you would like to achieve a golden brown touch without drying out the turkey.
*Garnish with a sprinkling of herbs and top with a teaspoon of chutney.
Notes
The Cranberry Chutney was used to make 6 Stuffed Turkey Rolls and for a side. The remainder can be used during the week. It is also great in smoothies!
Cleanly Consumed https://cleanlyconsumed.com/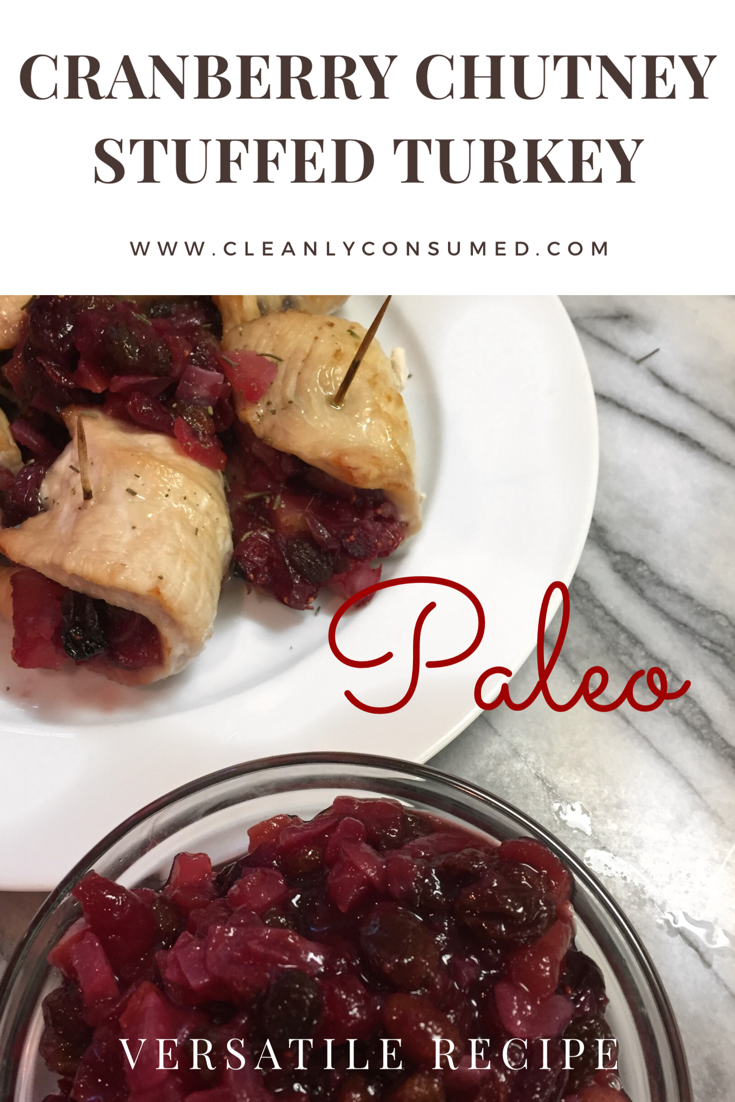 Join the Journey!
Let's get started! Be supported in your Clean Living Journey, step by step with resources, guides and a TON of encouragement along the way. You can do this- because step by step we did too!