Banana Pudding- Dairy Free & Clean!
Are you trying hard to cut out or cut back on dairy? I know… it's rich and creamy.. it taste amazing! BUT… I can tell you that I absolutely grateful for the gift of coconut milk!! If you are making a creamy dessert I suggest using a brand like Native Forest. You can find it at Whole Foods and on Amazon Prime.
In this photo we used Gluten Free Graham Crackers. Another option would be to drizzle with honey or top with crunched Plantain or Banana Chips.
Ingredients:
¼ cup water
1½ teaspoon grass fed gelatin
1 (13.5 ounces) can full fat coconut milk
½ teaspoon salt
4 egg yolks
2 ripe bananas, mashed
2-3 tablespoons of honey or maple syrup
1 teaspoon vanilla extract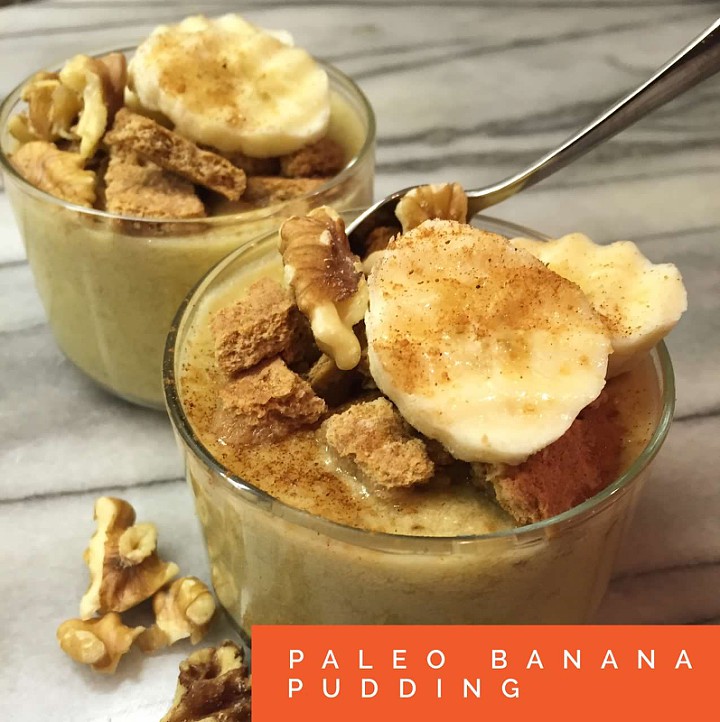 Instructions:
Pour water into a small bowl and sprinkle gelatin over the surface.

Set aside and allow it to soften while you cook the pudding.

In a medium pot, gently heat coconut milk and salt over low medium heat until just beginning to steam. Do not boil.

Slowly whisk in eggs yolks one at a time. Stir mixture with a wooden spoon for 5-7 minutes or until mixture thickens enough to coat the back of the spoon.

Turn off the heat and add the banana, sweetener of choice, softened gelatin mix and vanilla extract. Stir until completely smooth.

Pour into individual custard cups, cover and allow to set in the refrigerator for a minimum of 4 hours.
Enjoy!
Join the Journey!
Let's get started! Be supported in your Clean Living Journey, step by step with resources, guides and a TON of encouragement along the way. You can do this- because step by step we did too!