My Farmer's Market Find was Petite Purple Bell Peppers!
It is always fun to think of how I will incorporate them into a recipe.  They reminded me of Purple Fingerling Potatoes for some reason…. which lead me to a trip I took to Hawaii long ago.  Then ta da…. along came the Hawaiian Salmon Kabobs!  I ALWAYS buy WILD CAUGHT Salmon- what they eat is what you end up eating.  FISH DON'T eat corn in the wild!  Buy Wild Caught!!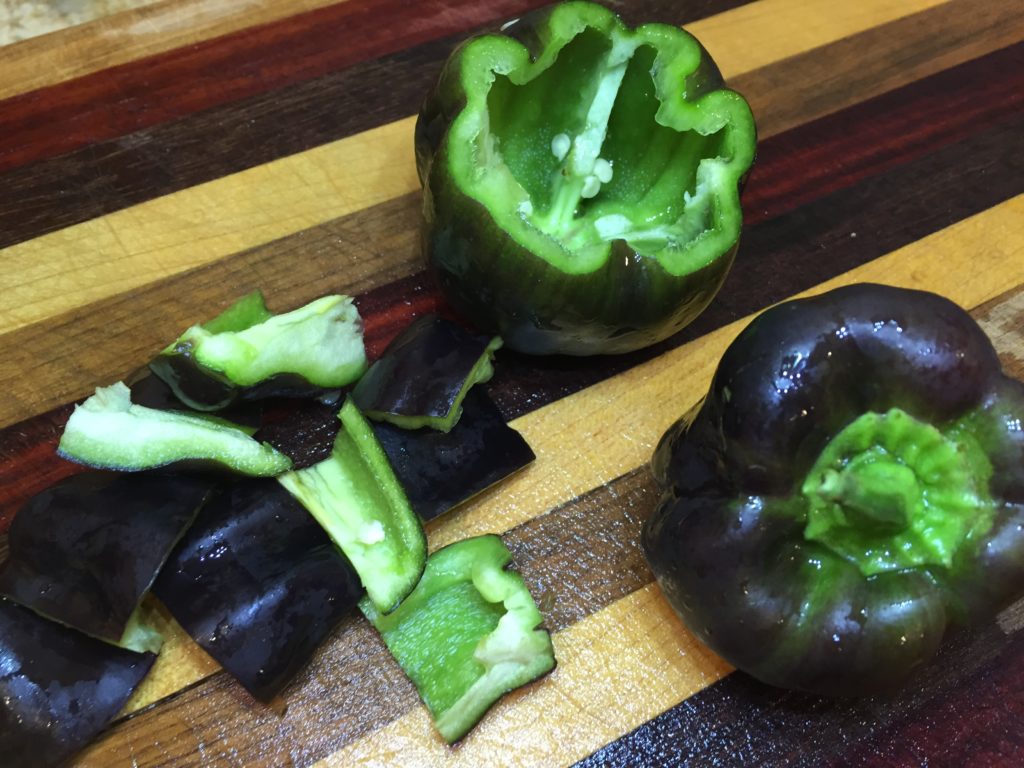 Ingredients
4-5 Wild Caught Salmon Fillets (I used Keta because it is leaner and stayed put on skewer)
Juice from 1 Small Organic Lemon
1 Teaspoon Raw Honey
1/4 Teaspoon Coconut Aminos
Celtic Salt
Cherry Tomatoes
Garlic
Fresh Pineapple
Bell Peppers (I used Purple)
Ghee

For the Dressing

2 Tablespoons of Full Fat Coconut Milk (Measure from top and leave the watery milk for another recipe)
2 Tablespoons Melted Coconut Oil
1/4 Freshly Grated Ginger or Organic Ginger Powder
1/4 Teaspoon Organic Apple Cider Vinegar
Instructions
Thaw Fillets on day of cooking in a glass bowl with cool water
When thawed use a paring knife to remove the skin and cut fillets into large chunks
Place salmon in glass dish with Lemon Juice, Honey, Coconut Aminos and Salt. Cover and place in refrigerator for at least an hour
Assemble Skewers starting with a firm ingredient like Bell Pepper, Pineapple or Garlic
Coat with melted Ghee
Grill each side for 2-3 minutes and flip for 4-6 minutes total (time will vary depending on thickness of salmon and grilling method)

For the Dressing:

Place Melted Coconut Oil, Coconut Milk, Ginger and Apple Cider Vinegar in high speed blender for 30 seconds
Drizzle cooked skewers with Dressing or serve on the side
7.8.1.2

11

https://cleanlyconsumed.com/hawaiian-salmon-kabobs/

These are the ingredients I used- the garlic ends up being fairly raw which I like- it packs a lot of punch.  You can roast these beforehand to soften a little before cooking if preferred or substitute for something else like Purple Onion.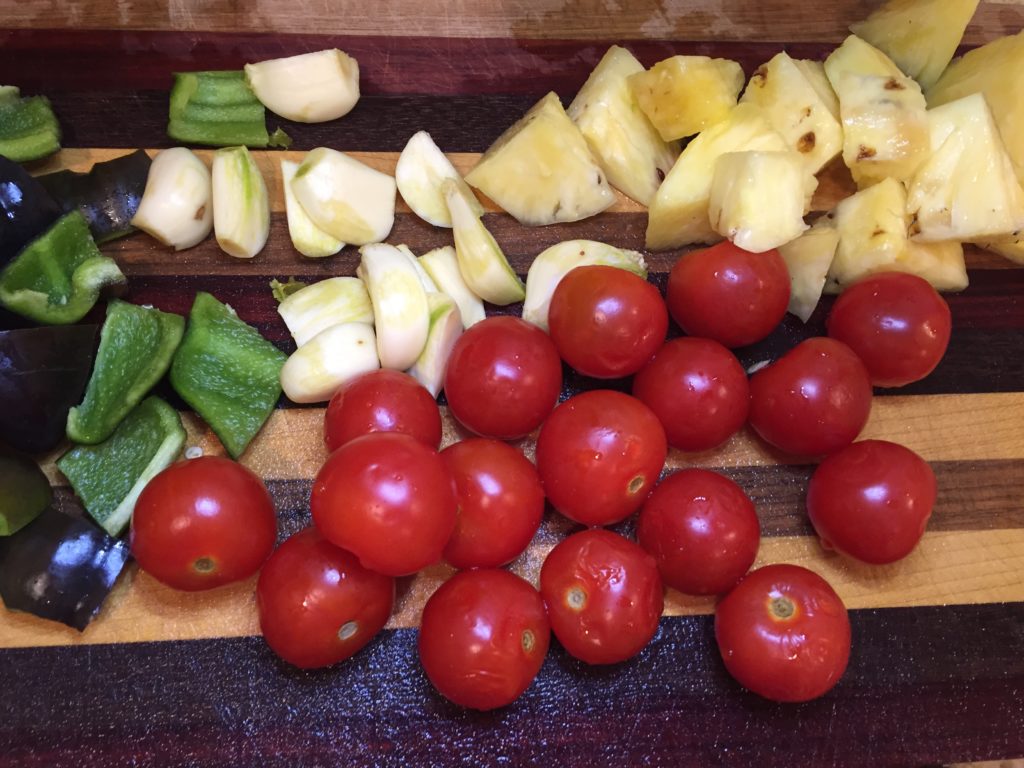 I start with a pattern then finish up with adding any leftovers on the top.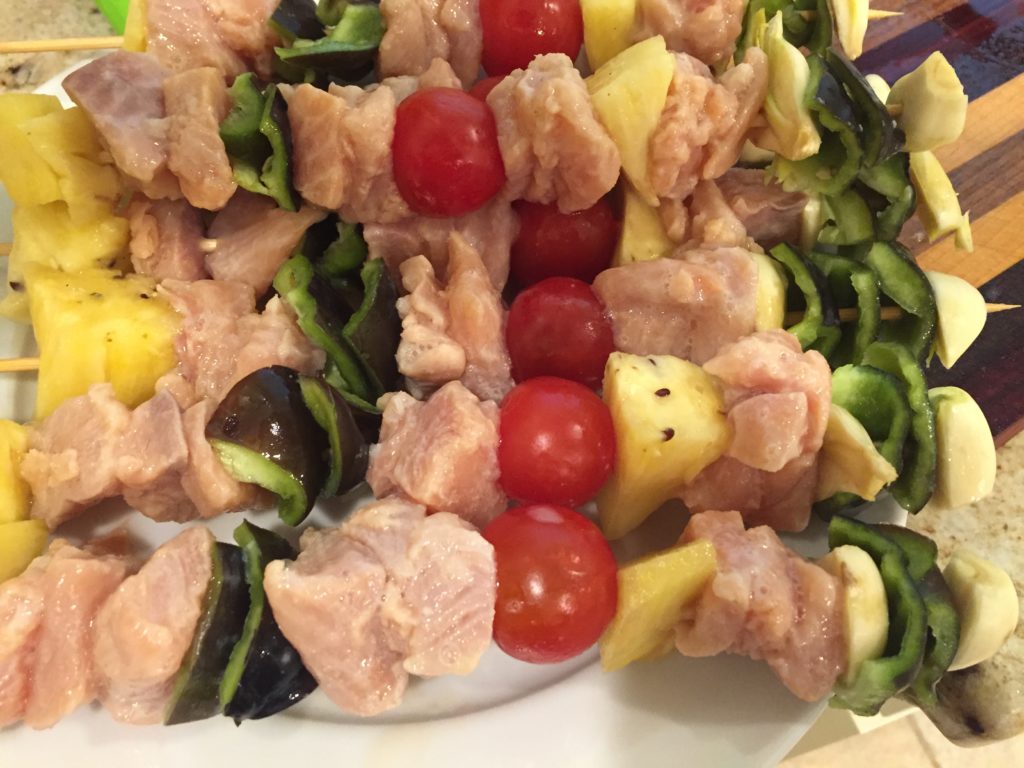 Plate while they are hot- they are sooooo good!
Enjoy!!!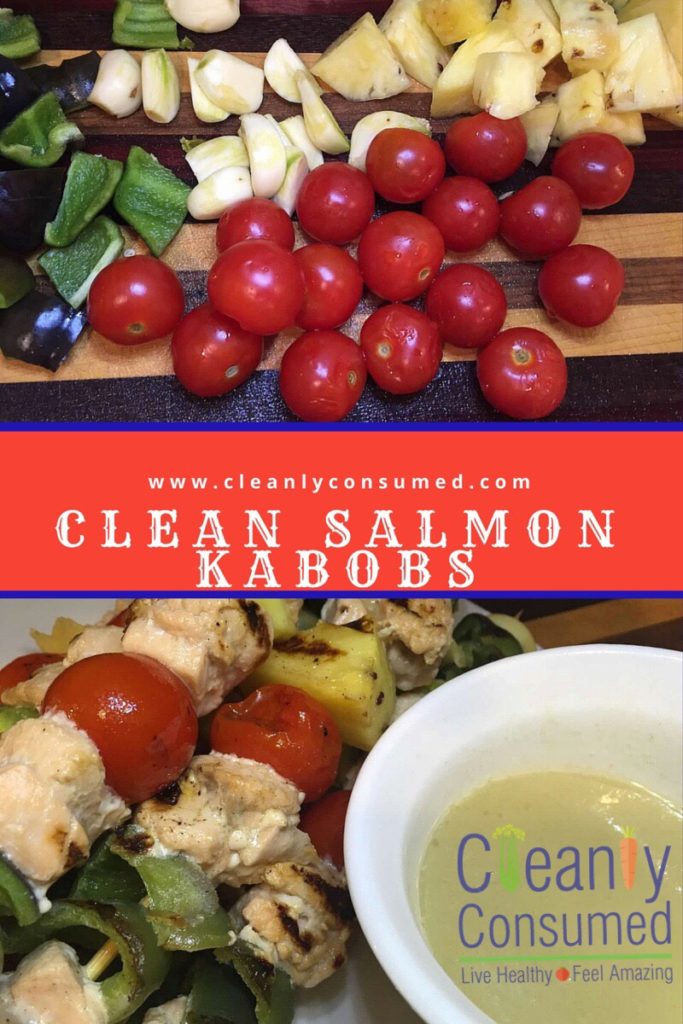 Join the Journey!
Let's get started! Be supported in your Clean Living Journey, step by step with resources, guides and a TON of encouragement along the way. You can do this- because step by step we did too!