Clean Eating Peach Oatmeal Crisp!
This recipe takes on the challenge of cleaning up an old favorite of mine- Peach Cobbler. Not only is this healthy peach dessert recipe easy, it also has some supportive ingredients baked right in! If you are looking for a even crispier crunch, then add some of my clean eating granola on top! That may even qualify this as a cheat day for breakfast. Well not really, but it falls into my 80/20 rule. If you find yourself with a bag of peaches, with no recipe in mind, this is one to remember and share.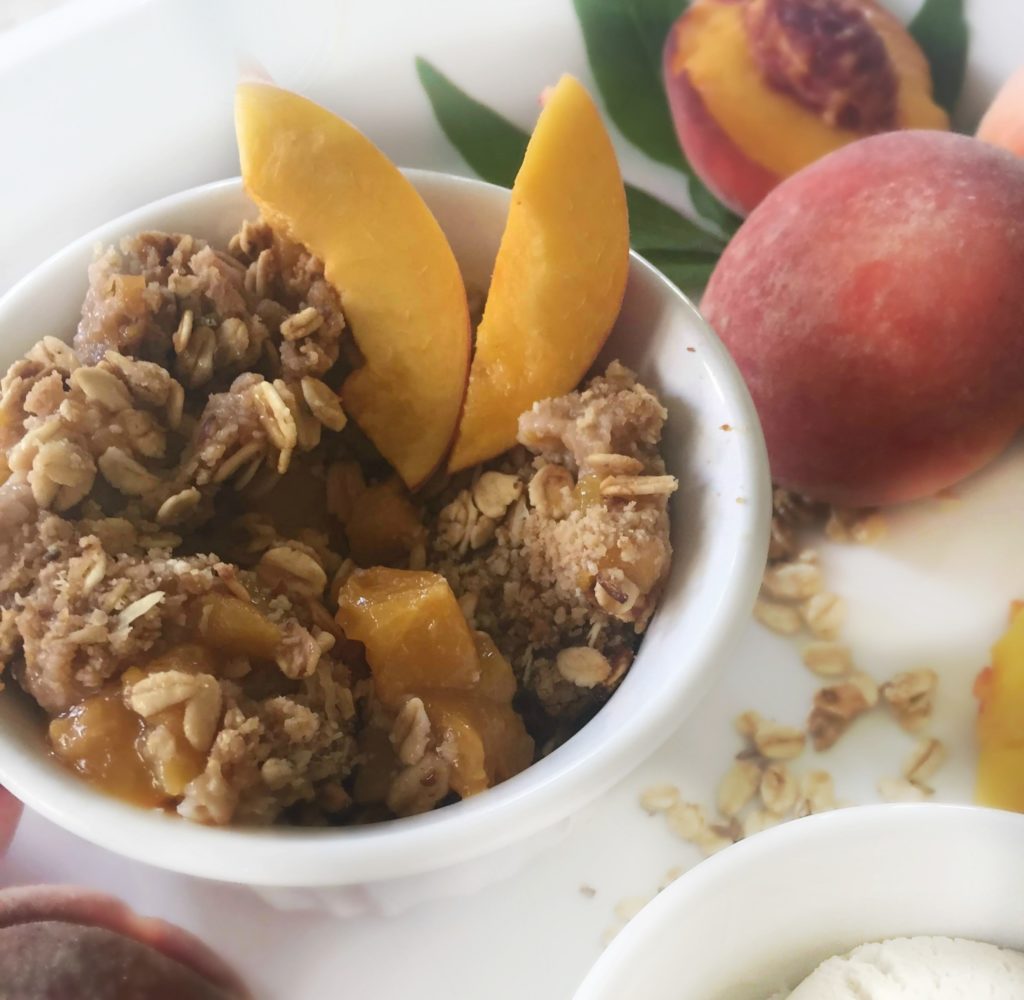 Ingredients:
4 Cups Organic Peaches, Diced

2 Tablespoons Organic Maple Syrup

1 Teaspoon Fresh Ginger, Grated

1 1/2 Teaspoon

Organic Vanilla Extract

1 Cup

Oat Flour

*Optional 2 Tablespoons Coconut Sugar, or 1 Tablespoon of

Monkfruit Sweetener

1/2 Teaspoon Organic Cinnamon, Ground

3 Tablespoons Ghee (or Grass-Fed Butter if you are not Casein Sensitive)

Pinch of Salt (Grey, Celtic, Himalayan are great choices), ground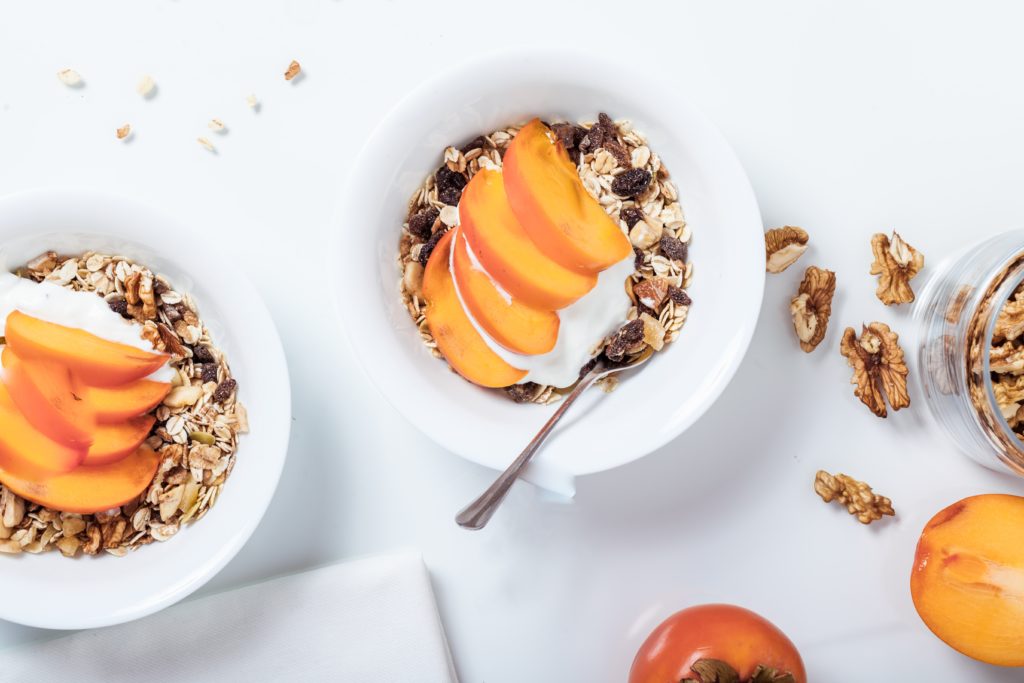 *Serve with yogurt on top and some fresh sliced peaches!
Instructions:
Preheat oven to 375 °F.

Prep Iron Skillet with Clean Oil, Ghee, or Clean Fat and place on lined cooking sheet to protect oven.

Mix the Peaches, Ginger, Maple Syrup & Vanilla in a small bowl and pour into the iron skillet.

Pre-cook the Peach Mixture on 375 for 15 minutes. (This allows for a richer fruit bake, and avoids the burning of the oats!)

Combine the Oat Flour, Ghee (or Butter), Sugar Substitute, Salt and Cinnamon. Using a fork, cut the Ghee (or Butter) into the mixture until it is crumbly.

Pull the Peach Bake out of the oven and top with the Oat Crumble Mixture. (For extra crunch, you can add some granola on top at this stage, or at serving)

Place back in oven and cook for an additional 15-20 minutes.

Let cool ever so slightly, and serve! Going Paleo with some Cream- try adding a dollop of Coconut Whip on top!
Enjoy!
XXOO

*Cleanly Consumed is a participant in the Amazon Services LLC Associates Program, an affiliate advertising program designed to provide a means for sites to earn advertising fees and linking to www.cleanlyconsumed.com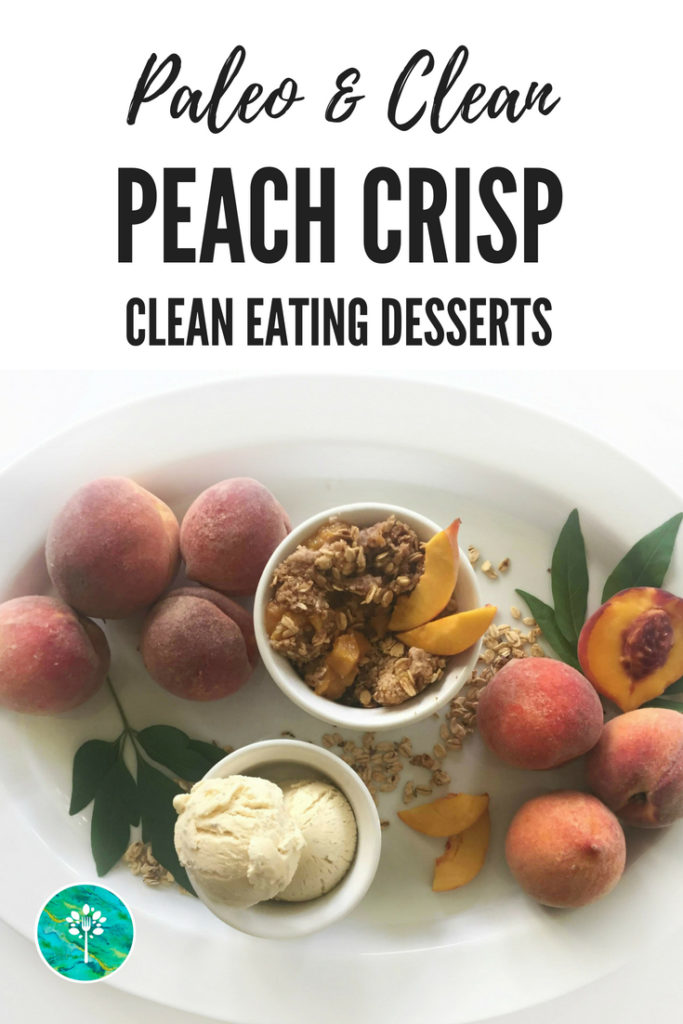 Join the Journey!
Let's get started! Be supported in your Clean Living Journey, step by step with resources, guides and a TON of encouragement along the way. You can do this- because step by step we did too!