Healthy Snacks… Apple Stacker Snackers!
That is a mouthful! How many of us struggle with snacks for our little ones- but for ourselves too! This is a quick, fun & healthy snack for people of all ages! My favorite apple of all time is Honeycrisp! They are usually big, sweet and crunch– all of the things that non-clean eating folks think they will miss… wrapped up into one healthy eating snack!
There are some clean granola brands out in the stores- take a peek at the ingredients and see if it is something your body can tolerate. If not… then there is a granola recipe listed below.
Ingredients:
2 honeycrisp apples
Sunflower seed butter (or preferred nut or seed butter)
Gluten free granola (recipe below)
Raw honey
Granola ingredients:
3 cups gluten free oats
½ cup raw honey
½ cup coconut oil
Dried fruit (sulfite free)
Sea salt
1/2 teaspoon cinnamon
1/2 teaspoon vanilla extract, optional
Enjoy Life Chocolate Chips (dairy, soy and nut free)
Granola Instructions:
Preheat oven to 350 degrees F.

Line a baking sheet with parchment paper and spread oats evenly on pan.

Toast granola for 10-15 minutes while stirring with fork or tongs occasionally.

While granola is in oven, in a bowl, mix the raw honey, coconut oil and vanilla extract.

After toasting the oats, remove from oven and drizzle the honey mixture on top and stir in well.




Place tray back in oven TURNED OFF to allow mixture to combine with the oats and finish toasting, about 5 minutes.

After removing from oven, sprinkle on sea salt, cinnamon, dried fruit, and chocolate chips, if desired.




Cool before topping onto stackers. Cool completely before storing.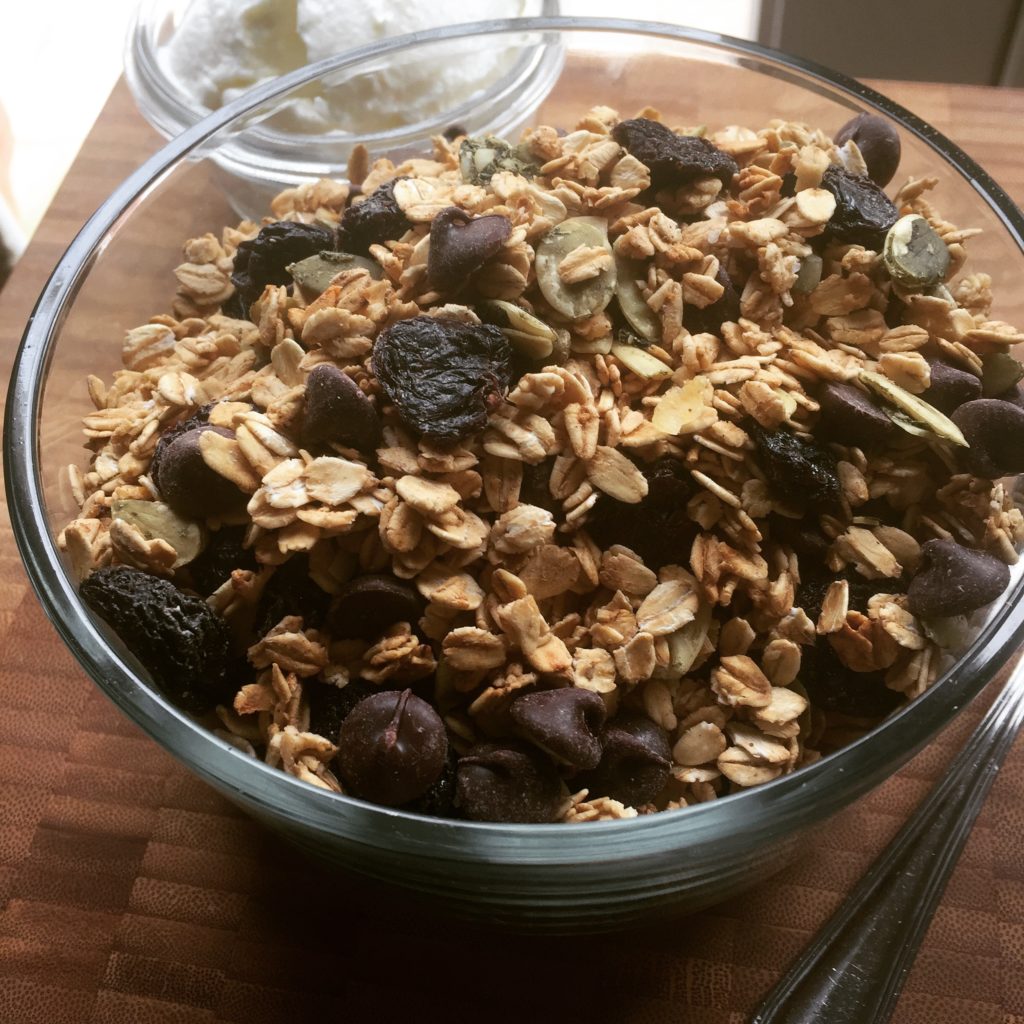 Assembly:
Wash and pat dry apples.

Adjust mandolin slicer for minimum size of 1/4 inch round slices.

Slice apples with the core in the center of slices.

Use the end of a funnel to punch out the core/seeds on each slice.

Using a knife, spread on nut/seed butter on each slice.

Drizzle raw honey sparingly on top

Top with gluten free granola




Enjoy!
Tip: Honeycrisp apples can be substituted for your favorite apple- they are just usually the largest, crispiest and most tasty!
Other chocolate chips maybe substituted for Enjoy Life Chocolate Chips (Dairy, Soy & Nut Free), but may have dairy, soy and nut ingredients or have been made in a facility that also handles these ingredients.

Stay Connected!
Get a Jump Start Now.
Clean Eating Shopping Guide for Free!