Welcome to another step in Clean-Living!
I am a mom of 4 children and I'm passionate about living a healthy lifestyle and inspiring others to fall in love with natural ways to support their bodies. It is my desire to help others to live the healthiest versions of themselves.
In the years that I have been applying Clean-Living techniques I have learned there is not a one-size-fits-all approach to supporting one's body. As much as we all want some kind of "quick easy fix", there isn't such a thing. The longer I learn about Clean-Living, the more I realize our bodies are so unique and we all move at a different pace.
Essential Oils are a tool in our Clean-Living Toolbox!
When I think about essential oils I immediately have my favorites pop into mind (Peppermint, Lavender, Cedarwood, Vetiver, Lemon and Frankincense). Essential Oils are powerful, potent and an all- natural gift from God for all of us to use.

What are Essential Oils?
Essential Oils are the oil of the plant from which they are extracted.  They're basically concentrated herbs!  The properties of the essential oils are the plants defense system, which allows the plants to survive and fight off diseases and is their protection. They contain all of the goodness that protects and maintains the plant, and we can use them to help support our own bodies' health and wellness.
There are many different kinds of oils out there, and they all have their different properties and uses.  The most popular ones are Lavender and Lemon and those that are mentioned in scripture numerous times…Frankincense and Myrrh.
How do I use Essential Oils?
Essential Oils are most commonly used to support a healthy lifestyle by helping to reduce stress, improve sleep and health benefits. They can support your immune system, digestive system, respiratory system and so much more. Essential Oils can also be used to replace many products in your home that contain toxic chemicals. You can use them to make non-toxic bath and beauty products, household cleaners and to make your home smell pure, fresh and clean.
Here is the simple 1-2-3 of Essential Oils:
Diffuse to enhance your wellness and make your home smell amazing without toxins. This is a better option than releasing toxic fumes in the air from scented candles, sprays and plug in air fresheners.
Apply oils directly onto your body to support digestions, stress and your immune system. Your skin is an organ and it absorbs anything it comes in contact with- think pain patches and hormone patches. Natural products are absorbed into the skin the same way synthetic products are!
Make your own products that work the same or even better without the use of harsh chemicals at a cost savings too!
Why Choose Young Living Essential Oils?
Pure:
Can you "just use any essential oils?" No- just as you wouldn't eat just any food… you wouldn't want to use just any oil.  Young Living owns their own farms, produces their own products- keeping it pure and clean- seed to seal.  Hands down the most bang for your buck and the most support to your body. Need an outside source to agree with this?? Take a challenge and ask someone at your local health food store if they have essential oils that are safe to cook with and ingest like the Vitality Line with Young Living.
Community: A community of resources.  As a Young Living customer, you automatically become a member of a big oily family that will give you all the support and advice you need!  It's a wonderful feeling to know you have the help and reassurance of a generous and caring community.
Value: The Premium Starter Kit- is a great value and introduces you to a variety of oils all at once.  It includes 12 Essential Oils TWELVE !!! There are reading guides, samples, travel bottles and a diffuser- everything you need to get started reaping the benefits naturally!
Let's Get Started!
Ready to Start?
The best way to get started with Essential Oils is through the Premium Starter Kit. This is how I got started! When you receive your kit you become a wholesale member and gain lifetime access to 24% off all Young Living Products! There is no need to order another kit ever- unless you want too! You can order one item a year and there are so many fascinating oils that are less than $8. There is no contract and you don't need to call in to cancel… not that you will want to!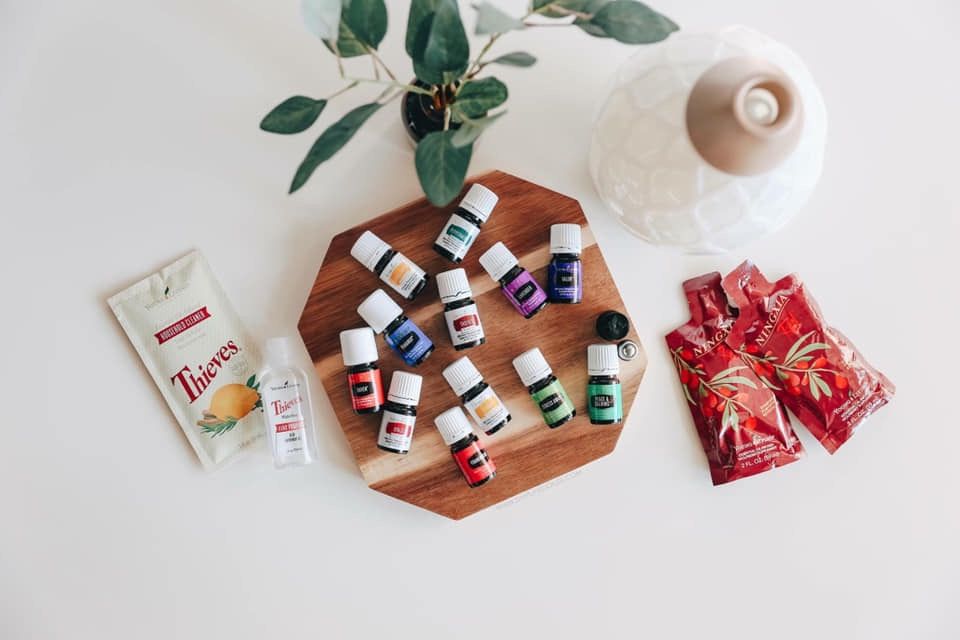 Here's What you Get:
12 5 ml bottles of essential oils (10 and one bonus underneath!!): Lavender, Peppermint Vitality, Lemon Vitality, Valor, Peace & Calming, Frankincense, Thieves Vitality, Citrus Fresh Vitality, Raven, DiGize Vitality, Pan Away & Stress Away,
A choice of diffuser
2 Aroma glide roller filaments (to turn any bottle into a roll-on). 
2 NingXia Red 2 Ounce samples (an antioxidant drink concentrate that's a great supplement for supporting health and well-being)
Thieves Waterless Hand Purifier
Product Guide
New Lifestyle Booklet!

Total value: $400
You pay: $165
*It truly is the perfect way to sample some of the most popular essential oils and includes everything you need to get started.
Click on the Order Kit Here and it will direct you to the official Young Living Sign-Up Page. My number is 3286670- add if it is not already in the box.
Check the "Member" box. This will make you a Wholesale Member, if you select Retail Customer you will not be getting the wholesale discount.
Fill out your information.

Set up your OPTIONAL Essential Rewards program. The Essential Rewards program offers promotional products, discounted shipping, loyalty gifts and reward points. It is a great way to support your family and kick out toxins out of your home one by one.

Confirm your order- to confirm your order you will review your cart and enter in your payment information. After you have completed these steps- you will receive a confirmation email that your order has been received!
Join my Cleanly Consumed Essential Oil Team!
If you are ready to get started, I would love for you to purchase it using my link. Part of the reason I LOVE my job is because I get to share the benefits of a clean, therapeutic-grade tool to support your health! By clicking on the order link I receive a commission check from Young Living. This also means that I personally become your support person and you have the opportunity to become part of my team if you decide to share the oils. It is a great way to earn additional income, part-time income or turn it into a full-time passion.
As a member of my team you will:
Instantly become part of a Private Facebook Community for both users and business
Get an email subscription to my essential oils newsletter "Refresh". This allows you to keep up to date with news within our community, essential oil uses and recipes.
Be a part of a great team that I know!
CONGRATULATIONS AND WELCOME
I am so excited that you have added Young Living 100% Pure Oils to your Clean-Living Toolbox! You are going to love using them in your home. Please be sure to subscribe to www.cleanlyconsumed.com to receive your newsletter and subscribe here to receive the Refresh Newsletter after purchasing your kit.
Still have questions?
Do I have to place an order every month?
No- Absolutely not. You will never be required to purchase a starter kit again… only if you want one.. it is a great value! You will need to keep your account active by purchasing at least one item in a calender year. There are several items that are less than $8!
Do I need to start a business?
No- you do not. I did not intend to start a business- but I am so thankful that it was an option. You may find sharing with your friends is fun and see where it leads from there. BUT in any case- you always benefit from your PERSONAL use of your essential oils and products.