Low Carb, Clean & Paleo- Three Cheers!
A true triple win all three in one dish… cauliflower is low in carbs, clean and paleo compliant! Oh…. and soy free thanks to our lovely Coconut Aminos in our clean toolbox!
Cauliflower is a great Paleo and Low Carb option.
We want our energy from protein and avoid those crashes during the day.
Nutrients & Support:
Cauliflower- did you know that it is high in…
Vitamin C, K, B6
Thiamine
Niacin

Folate

Biotin
It is also beneficial for Potassium & Manganese! It is wise to get your nutrients & support from food and use supplementation as back up if needed. Finding out which foods support your body is part of the feeling amazing journey!
I have been eyeing the green and purple varieties in the store and I am excited about coming up with some recipes for those.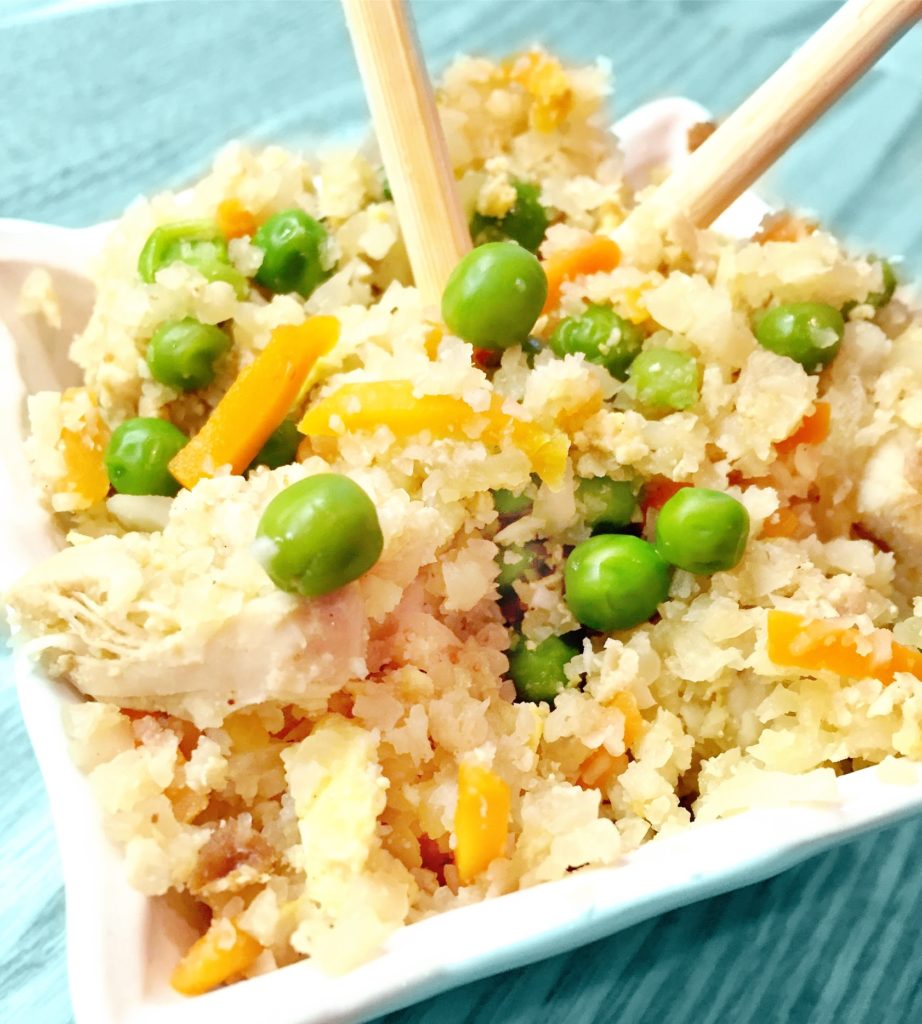 Ingredients:
1 Head of Organic Cauliflower
1 Cup Frozen Organic Green Peas
1 Cup Juliened Fresh or Frozen Carrots
(Or keep your eyes open for a peas & carrots mix!)
2 Farm Fresh Eggs
3 Organic Chicken Breast- diced (marinate the chicken in this mixture ahead of time- or add into recipe later)
*If you have time for marinating add Diced Chicken Breast, Minced Garlic, Coconut Aminos, Ginger & Pepper into a glass dish and cover in refrigerator the night before or morning of cooking.
Marinating Mixture:
2 Cloves of Organic Garlic- minced
1/4 Cup Coconut Aminos
1 Tablespoon Raw Honey
1 Teaspoon of Freshly Grated Ginger (or 1-2 drops of Ginger Essential Oil)
1/4 Teaspoon of White or Black Pepper (or 1-2 drops of Black Pepper Essential Oil)
2 Tablespoons (1 Tablespoon in each step) of Healthy Fat (Grass-Fed Butter, Ghee or Coconut Oil)
Instructions:
1. In a food processor add in clean, cut, raw cauliflower florets and pulse until crumbled and has a "rice" look to it (may need to do in batches depending on the size of your food processor).
2. In a large pot set a steamer basket inside (you can also use a pasta boiling pot) and fill pot with clean-sourced water just before it reaches the steamer basket. Pour in "rice" and steam cauliflower until it becomes tender (15-20 minutes).
3. If not marinating ahead of time- mix all marinating ingredients in a small bowl and set aside.
4. In a Wok- heat 1 Tablespoon of Healthy Fat and diced chicken breast (if marinated drain marinade first so you will have a sizzle on your chicken). Cook until done. Place cooked chicken on a clean plate while you being the next step.
5. Add 1 Tablespoon of Healthy Fat into wok and add in the two eggs until scrambled. Then add in the peas, carrots and onions. Sauté mix until the onions begin to turn tender add the cauliflower rice and chicken and incorporate.
6. Pour in wet mixture if you did not follow the marinating step above. Pour in a little at a time so that it soaks in and you can adjust how much you add.
Enjoy!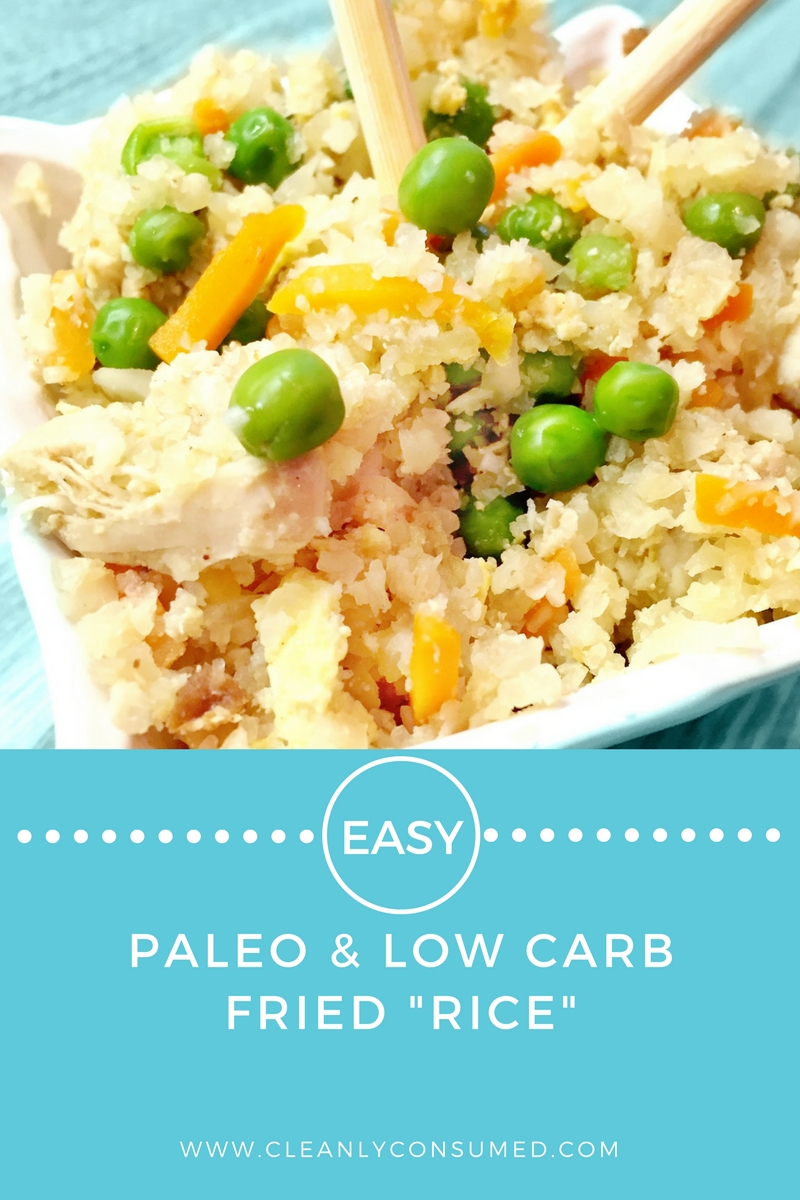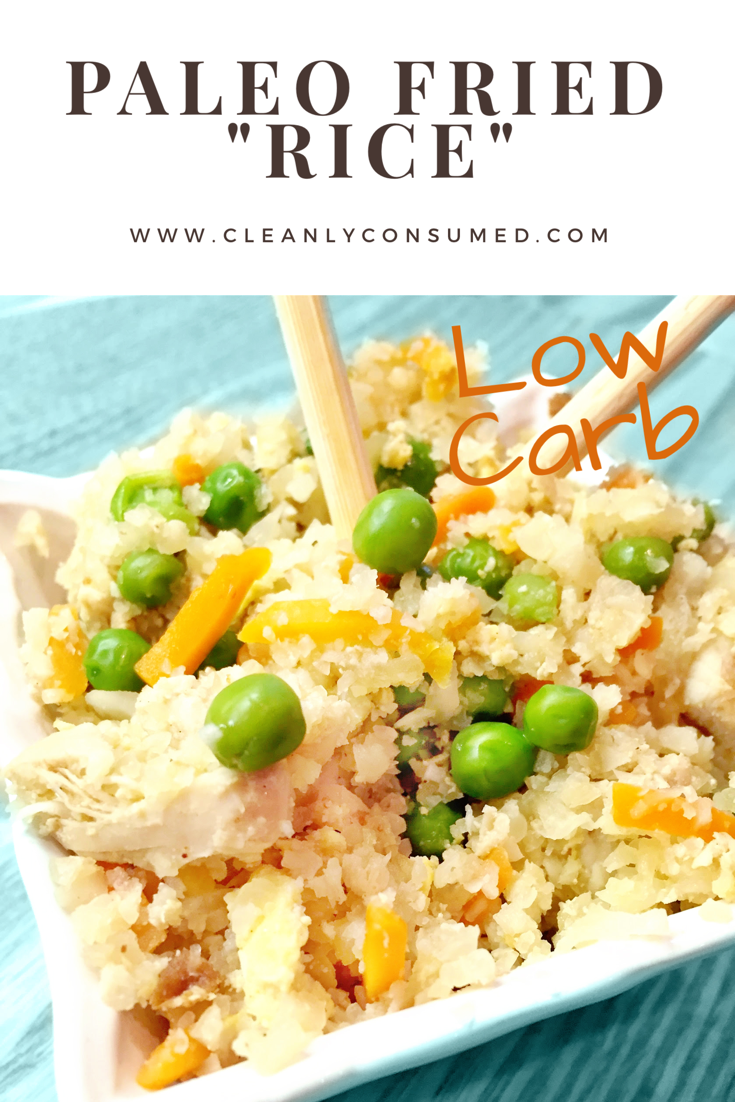 Join the Journey!
Let's get started! Be supported in your Clean Living Journey, step by step with resources, guides and a TON of encouragement along the way. You can do this- because step by step we did too!