Keep Your Home a Safe Home
Before I embarked on my Clean Living journey we used Clorox Bleach, Wipes, Comment Scrub, Tilex… my eyes are burning just thinking about it. Oh… and Purell for the nursery! Screaming Emoji here! We are not meant to live in a chemical bubble, so let's get ready to pop it and really get our homes clean! Get ready, because this part is eye-opening. A few Facts on Chemicals, a Free Printable to help and some Easy Quick Tips!
Dangers of Bleach:
It must be toxic because we would sneeze all day long after our bathroom was "cleaned" with bleach.
Inhalation: Burning sensation. Cough. Laboured breathing. Shortness of breath. Sore throat. Symptoms may be delayed.
Skin: Redness. Skin burns. Pain. Blisters.
Eyes: Redness. Pain. Severe deep burns.
Ingestion: Abdominal pain. Burning sensation. Shock or collapse. Unconsciousness. Vomiting.
*Dr. Axe (Practitioner of Functional Medicine) has a great article: Dangers of Bleach + NEVER Mix Bleach with These 3 Cleaning Ingredients
Dangers of Hand Sanitizer:
Alcohol-based hand sanitizers can quickly reduce the number of microbes on hands in some situations, but sanitizers do not eliminate all types of germs.
Hand sanitizers might not remove harmful chemicals, like pesticides and heavy metals, from hands.
Chemical Exposure:
Dr. Mercola is a great resource! I am not a scientist- so I am guiding you to trusted resources.
The United States permits more than 84,000 chemicals to be used in household products, cosmetics, food, and food packaging, and a majority of these have never been tested for safety.

More than 10,000 chemical additives with questionable safety — as most have never been tested in humans — are allowed in food and food packaging alone. Roughly 13,000 chemicals are used in cosmetics, of which only 10 percent have been evaluated for safety.- Dr. Mercola
The Environmental Working Group is another fabulous resource. This article "Dirty Dozen Endocrine Disruptors" is one to save for sure!
There is no end to the tricks that endocrine disruptors can play on our bodies: increasing production of certain hormones; decreasing production of others; imitating hormones; turning one hormone into another; interfering with hormone signaling; telling cells to die prematurely; competing with essential nutrients; binding to essential hormones; accumulating in organs that produce hormones.- EWG
(Click on Image to Print PDF)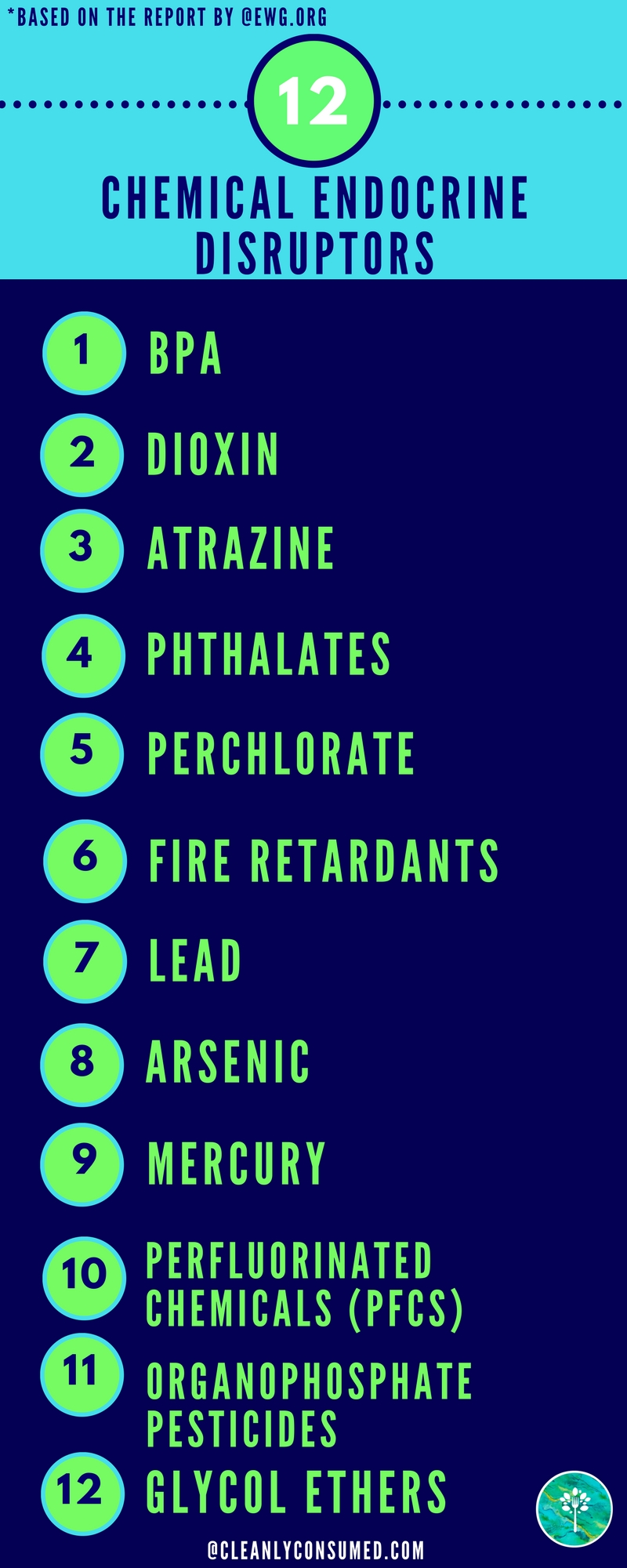 Clean Home Tips & Cleaning Supplies
Avoid the dry cleaners, if you do you should remove the plastic and air them out in the garage or outside before bringing them into your closet or wearing them.

Remove your shoes and keep just inside the door.

Test your water source. Consider a water intake filter, or water delivery in glass bottles.

Inspect your air quality and recycling of air.

All Natural Fabric Linens- Organic Cotton, without the use of bleach.

Check all labels that come into your home.

Download Clean Living App from EWG.

Educate- Subscribe to News Feeds by EWG, or other trusted sources like Mercola and Dr. Axe.

Remove Plastic Shower Curtains. Consider fabric only, glass door or open air shower construction.

Air Dryer Sheets, Candles and Plugins are 3 top toxins commonly inhaled in the home. Switch to Wool Dryer Balls (Amazon), & Diffusers.(Young Living Essential Oils)

Replace your household cleaners with green clean items and check labels (Young Living's Plant and Mineral Based Thieves Cleaner is safe for use around kids and pets!)
*Locals feel free to message me and I can direct you to vendors for Clean Living Home Services and Resources.
*I am a distributor for Young Living. I switched out products one by one and I have never looked back. It is all about baby steps to achieve the best results for your family. Clean Living is a Lifestyle, NOT a Diet. It is not more expensive, it only takes empowerment and advocacy. To learn more CLICK HERE for the Essential Oils Products, or the Thieves Home Products. Safe for Use Around Kids and Pets Too!

Join the Journey!
Let's get started! Be supported in your Clean Living Journey, step by step with resources, guides and a TON of encouragement along the way. You can do this- because step by step we did too!